Anyone who has run field service operations has heard the complaints from their accounting teams. Can't read the work orders, inventory not accounted for, and the wrong tax code on a quote or invoice, not all assets at a location got inspected, and now a return trip is necessary.
There is a lot of collaboration that needs to occur internally to keep a seamless service company performing and productive. When we built the latest version of Fieldmagic, we approached the accounting software connector development as a means to break down those communication silos and collaboration challenges seen by many service companies.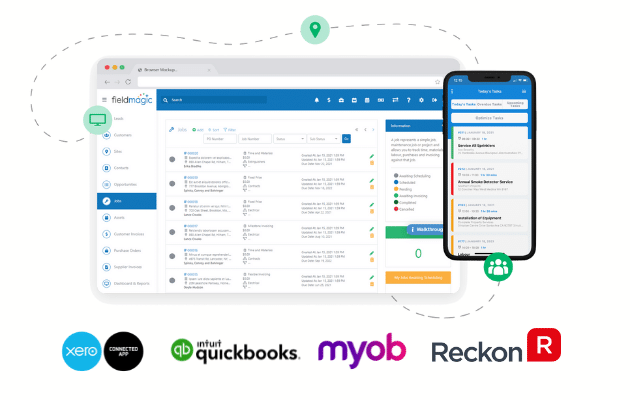 With feedback from our global client base, we targeted four areas to focus on while developing the live-time sync.
Set up and data import that is turn-key
Most CRM and Field Service platforms require hours of development to pull your data in from the accounting system. Not us. All your data, including Customers, Suppliers, Contacts, Items, Account Codes, and Tax Codes are dropped into the system when you first connect and maintains live-time sync after.
Service Operations & Efficiency gains
Service calls aren't predictable; there will always be a handful of mission-critical service requests that come in overnight and during the day when your crews are already on-site or travelling to the next job.
Those requests are typically billed at a higher rate, but how would your technician know to update the price on the work order? They wouldn't unless their service software and accounting are connected. The days of your office staff updating work orders, quotes, and invoices to the correct billable amount are over.
Accuracy & Data Standardisation
All companies need key performance indicators to drive customer success and revenue. Data standardization brings uniformity to your service and accounting teams by adopting a common data set, including drop-down fields for job checklists, items, accounts and tax codes, and more.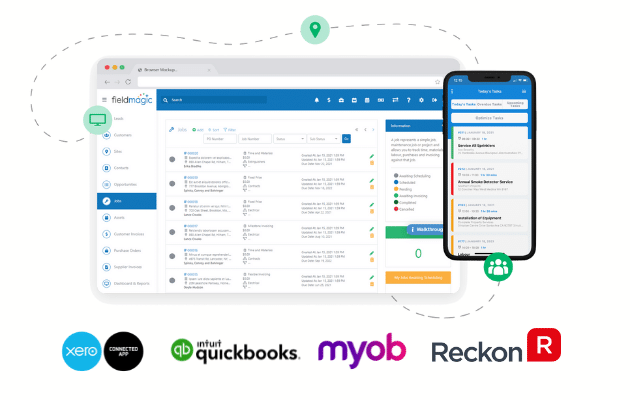 With clean data, you can begin to report on cross-functional data points, allowing you to make smart operational changes.
Speed of communication between the field and office
Invoices can't get paid if they are sitting on the passenger seat of the work truck in the form of a completed job order. Quotes, Invoices, Work Orders, and Invoices are all synced live-time. When your technician completes a job, Fieldmagic pushes that information instantly to the office so you can issue an invoice. Seamless communication between teams.
We can help.
By now, you've seen a common theme. We want you and your teams to move fast, be accurate, create a lasting customer experience, and have fun while doing it. For a free 30-Day trial of Fieldmagic, click here - we will even help you get set up and get connected with your accounting platform.