Share on your Social Network
Aug 09, 2017
by Trevor Carlsson
What are some of the challenges around reporting?
If you're in the fire safety maintenance business, one of the challenges you're likely to encounter is the management of your reporting to your customers. We often see that job & site reports are the result of painstaking manual preparation. There is the data collection aspect out on the field, and how to keep a track of this, and then there is the process of compiling this data into a coherent job or site report. Trying to scale and grow with mounting administrative overheads, can be a real challenge.
It's about the right workflow.
Let's take a step back. It all starts with how your entire workflow comes together, and how one aspect of your process flows into the next. Purpose-built Fire Safety software systems and tools can considerably remove manual touch-points for your office and field staff, all the way through to automating the process of getting the right reporting data into the hands of your customers. 
How to Supercharge Your Workflow
Let's consider the following workflow for a minute: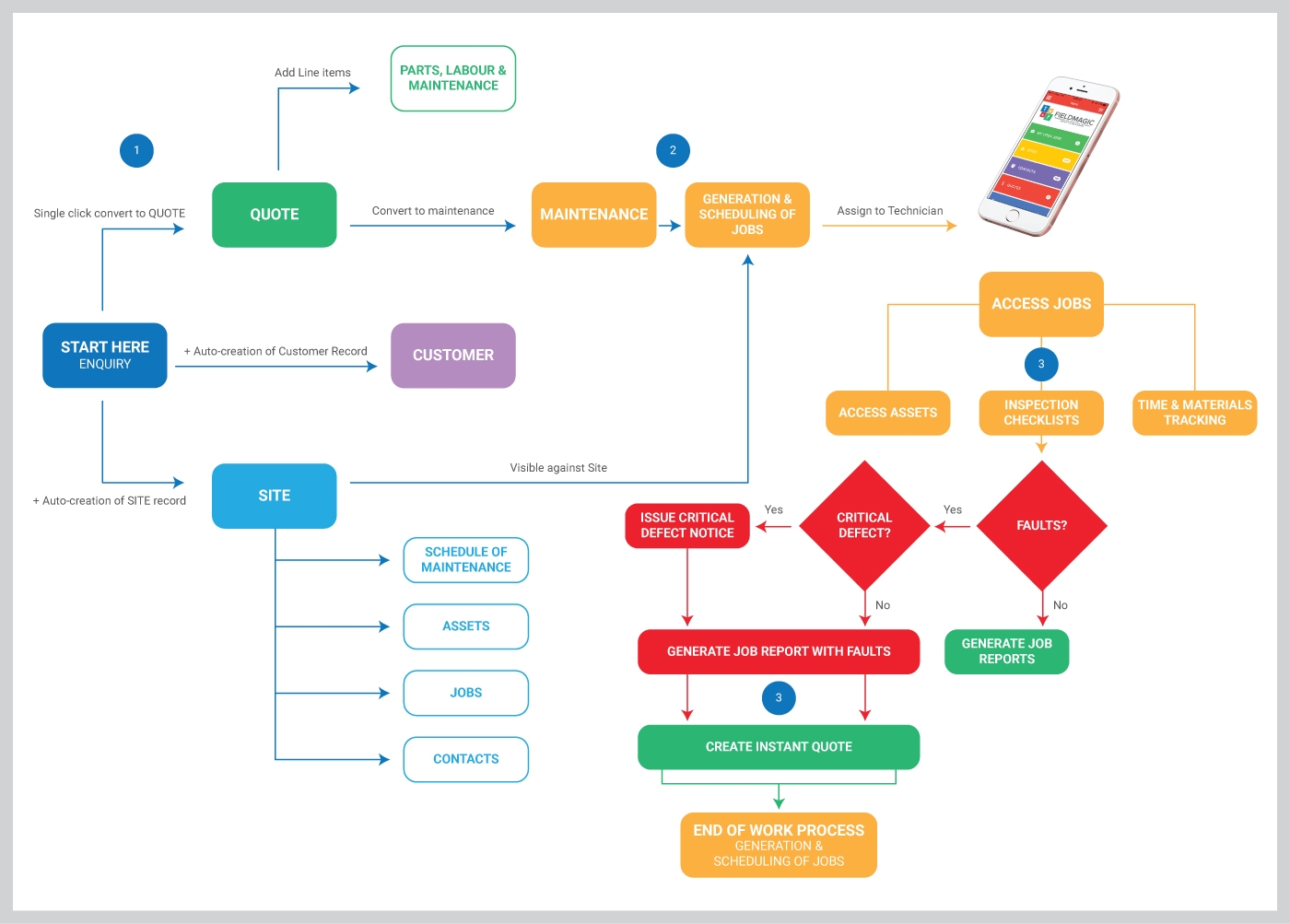 1. Enquiry to Quote
We start off with an enquiry, an early stage interest in your services. It's at this stage where we discuss the needs of the customer and progress the enquiry (sometimes referred to as a  'lead') to a Quote. At the stage of preparing a quote, we select the products and services required by the customer, and issue our quote.

2. Maintenance Scheduling
If our Quote is accepted, we 'convert' any quoted maintenance items to a schedule of maintenance, where we can set the next job date so this goes into our scheduling. Ideally, this process should be automated, where once we access our scheduling, we can generate all of our jobs in a  single click - each job bringing with it the associated checklist of tasks to check off on our service.


3. Inspection Checklists
By investing in a well-built out software solution for Fire Safety, this should ideally allow your techs to access assets and checklists via a field mobile application that is easy to use and supports your natural workflow. This ensures that the information techs capture is instantly available for reporting back to the customer - a real differentiator for your business.

4. Inspection Fault to Quote
Another key aspect that's critical to driving efficiency is the process of capturing asset faults, and how this transitions into quotes for repair work, reporting of asset status and then back into repair jobs. Fieldmagic allows technicians to inspect assets using electronic checklists, and should any faults arise, the system allows technicians to select from a list of likely failure points for that asset, and select a list of parts to be quoted for replacement.
This information is instantly available to office staff, who can convert the failed assets into a quote with a single click. Since technicians are able to select one or more parts related to the asset type to be replaced, these are automatically populated on the quote as line items with the correct pricing pre-populated into the quote. Office staff can then email the quote to the customer, who can approve the quote electronically via our comprehensive customer portal.
The result of the above workflow is typically 30-60 minutes per inspection quote in saved time that doesn't need to be spent re-entering fault data into a quote, interpreting technician notes and searching product lists manually. Fieldmagic provides an end to end seamless flow from field technician to office users to customers.

5. Arriving at Single-Click Reporting
The parallel process that underlies the above, is tying the asset inspection data into easy to generate asset status reports. Having captured our data in the field electronically, it's now possible to bring this into a coherent report - whether this be a job report, a Yearly Condition Report, or any other report. This is a step way down our workflow, but in order to get here, we need to have the right software and processes in place to deliver turn-key reporting to customers. Reports should also ideally be available online to view, via a customer portal - an option that can significantly reduce the administrative overhead of sending report after report.  
In summary, it's worth identifying where your bottle necks are in your processes, and selecting a platform that will fit in well with your natural workflows to automate your day-to-day activities. 

Like the article? Share it with your colleagues!