Optimised for
Security
When it comes to competing in the security systems installation and maintenance industry, the reality is that it is a heavily commoditised industry, and most of the players run on thin margins.
Start Trial
Reduce
Administration

and improve customer service

Fieldmagic was conceived and designed in partnership with the fire safety industry to meet the unique needs of that industry. The challenge that faced our clients is that their existing systems were becoming obsolete, and unable to scale to the level that the organisation required to grow. In addition, when we looked at the broader requirements of the organisation, it became clear that they would end up with multiple, disparate systems in order to run their business.
Typically, customers would be running the following in separate tools
Job Scheduling
Compliance checklists
Accounting
GPS Tracking
Email Marketing
Business Reporting
In the past, customers used at the very least 5 or 6 different systems as a minimum within the organisation. Leading software platforms for the industry either didn't have the complete solutions available (very few had strong CRM or reporting solutions, for example), and many still encouraged paper-based processes for things such as compliance tracking (there is still a requirement to leave a paper-based receipt onsite, but this can be automated with the right approach). In addition, there were clear opportunities for the industry to create a much-improved customer experience by empowering customers with tools such as a customer portal, an aspect that provided our clients with a competitive advantage in their market.
Our goal in creating Fieldmagic was to create a single platform to address these needs in an efficient, affordable manner.
Leverage our complete field service solution to
grow your business
We designed Fieldmagic to provide a comprehensive all-in-one solution that bridged the need for multiple
system and has delivered tangible results for customers through efficiency and service level improvements.
Today, Fieldmagic for Fire Safety combined the following capabilities
Job management, time & materials tracking, and invoicing.
GPS tracking of technicians using the built in technology of your mobile devices.
Reporting & dashboards to drive business KPIs all within the system.
Distinguish your business and gain a
competitive advantage
When it comes to competing in the fire services and safety industry, the reality is that it is a heavily commodities industry, and most of the players run on thin margins and compete on price. This makes it even more important to be able to:
Differentiate from your competitors by providing a superior customer experience with customer portal access and automated service reporting.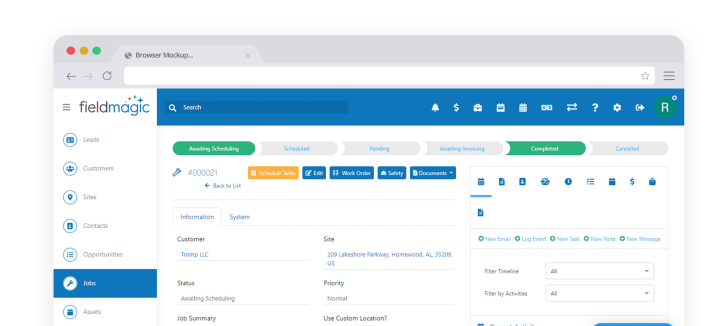 What are some of the benefits customers see?
The Fieldmagic platform offers a number of tools to help you drive efficiency within your organisation
Never miss another website enquiry - capture them immediately into your Fieldmagic CRM, for immediate quoting.
Convert more sales by being more efficient and therefore responsive.