ASSET CHECKLISTS
Open the job record. Tap "Manage Checklists" at the top of your job record. 
Note: If the job does not have a checklist the "Manage Checklists" button will not be visible.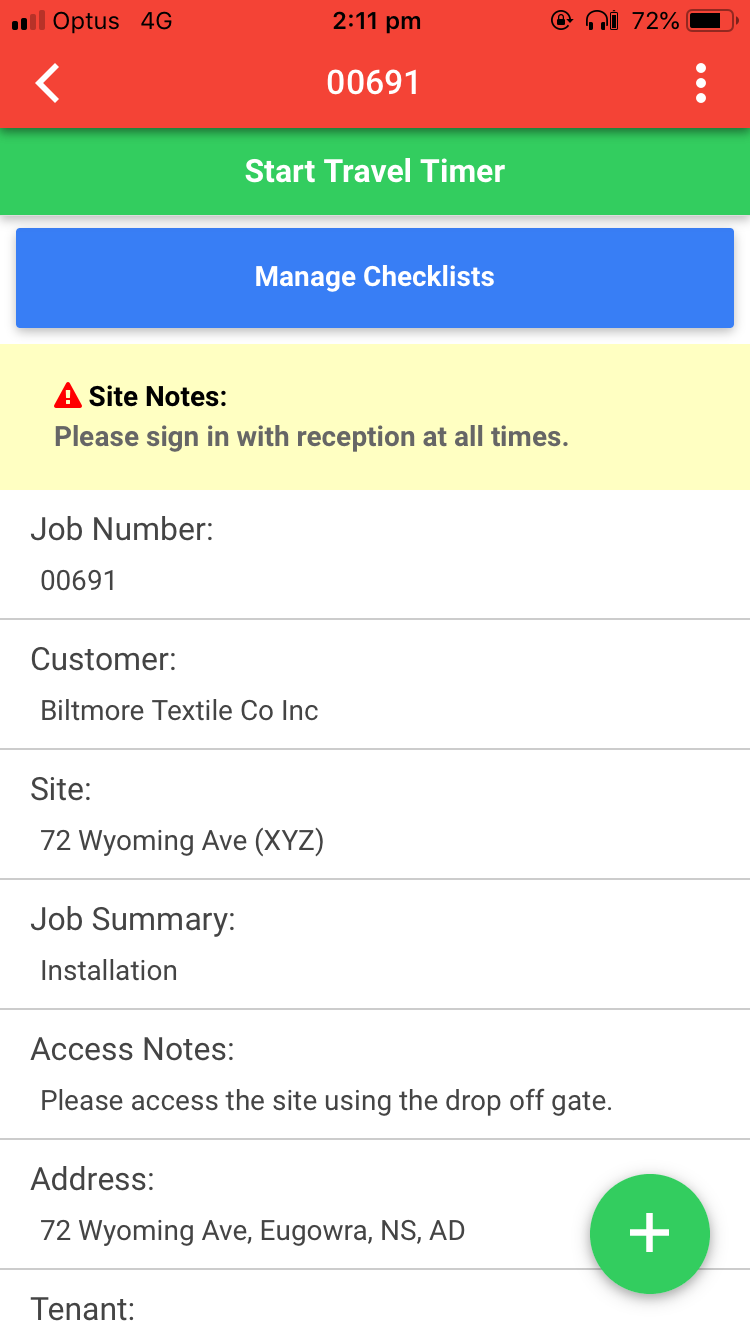 It will display all the checklists or assets required for servicing for that job. Tap the funnel to  filter the records by level and progress or type any keyword in the search bar. From the list, tap the asset to view the standard checklist for that asset: 
The round button beside the checklist indicates the progress. Fieldmagic uses the following colour indicators:

Black - Not Started
Orange - Partially Completed
Red - Complete with Faults
Green - Complete with no errors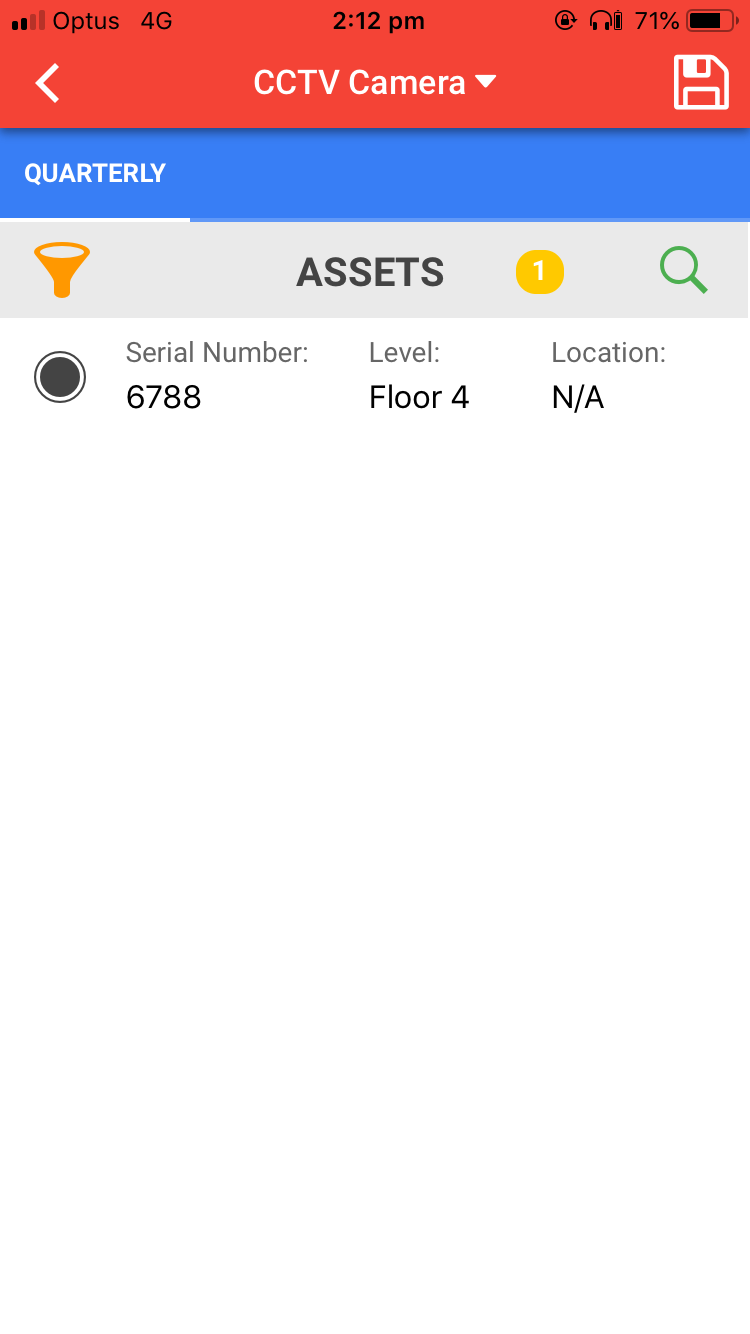 To update your checklists tap the checklist circles, drop-downs, or other available icons following the questions on the left as below to make edits. You can also tap the name of the checklist at the top of the screen and select "Mark All Passed". All the fields with Pass/Fail option will be marked as passed.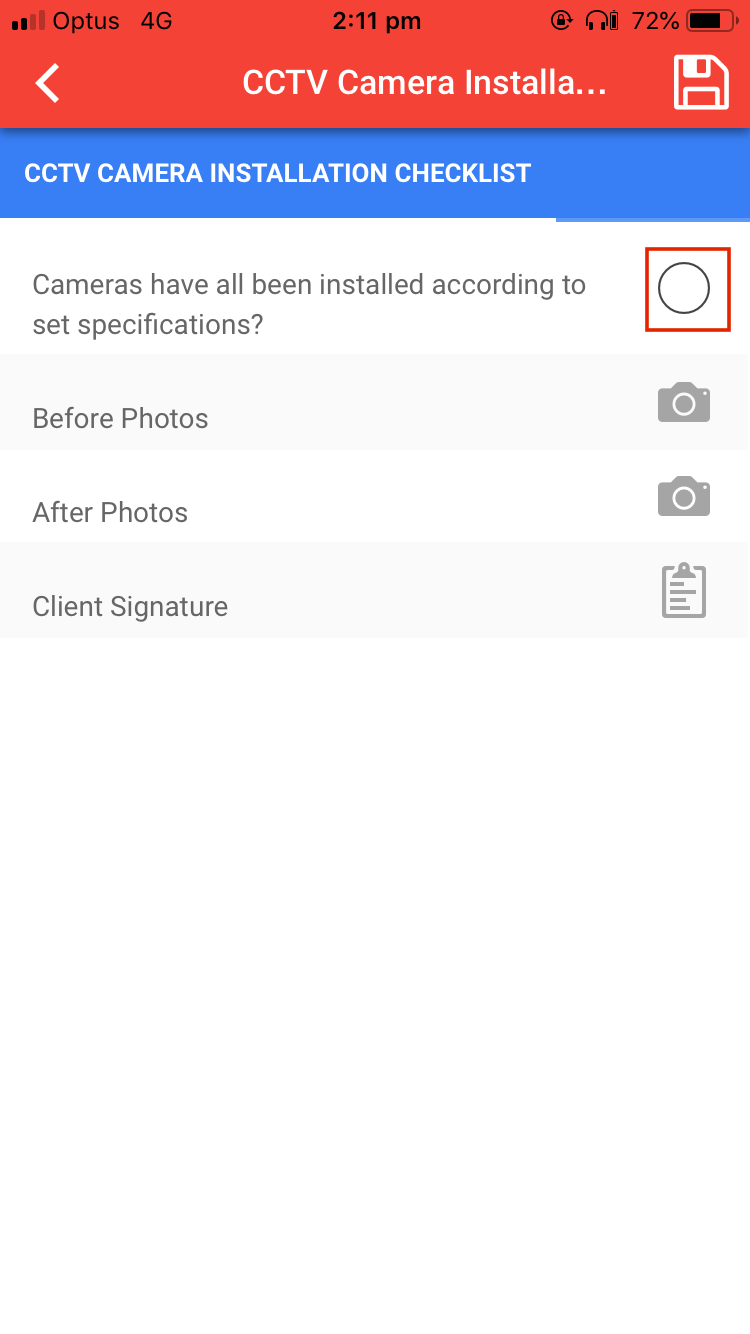 There will be a pop-over window to display the question in more detail and possible answers to select from. Simply tap the appropriate answer to record your response: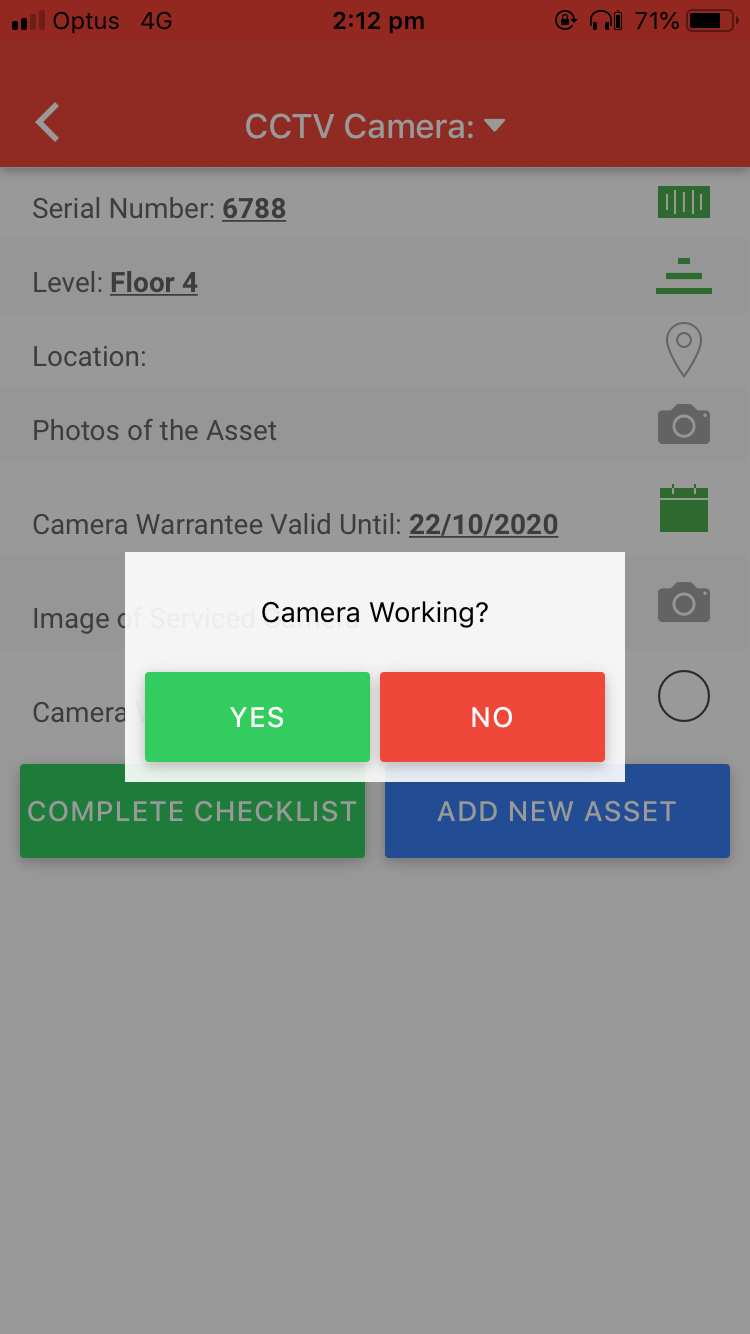 RECORDING A FAULTY ASSET
If one of the assets records a failed item on the checklist, scroll down and use the 3 buttons at the bottom of the screen to record the fault details. Simply fill in the necessary details then tap "Ok."
Fault Details - Enter information about the fault
Fault Reasons - Select if it is a Critical Fault or Non Conformance. This will be used in Reports.
Products To Fix - Select the name of the product that needs to be fixed. 
Note: The list of products displayed depends on the products set up in your "Asset Type" configuration under "Products"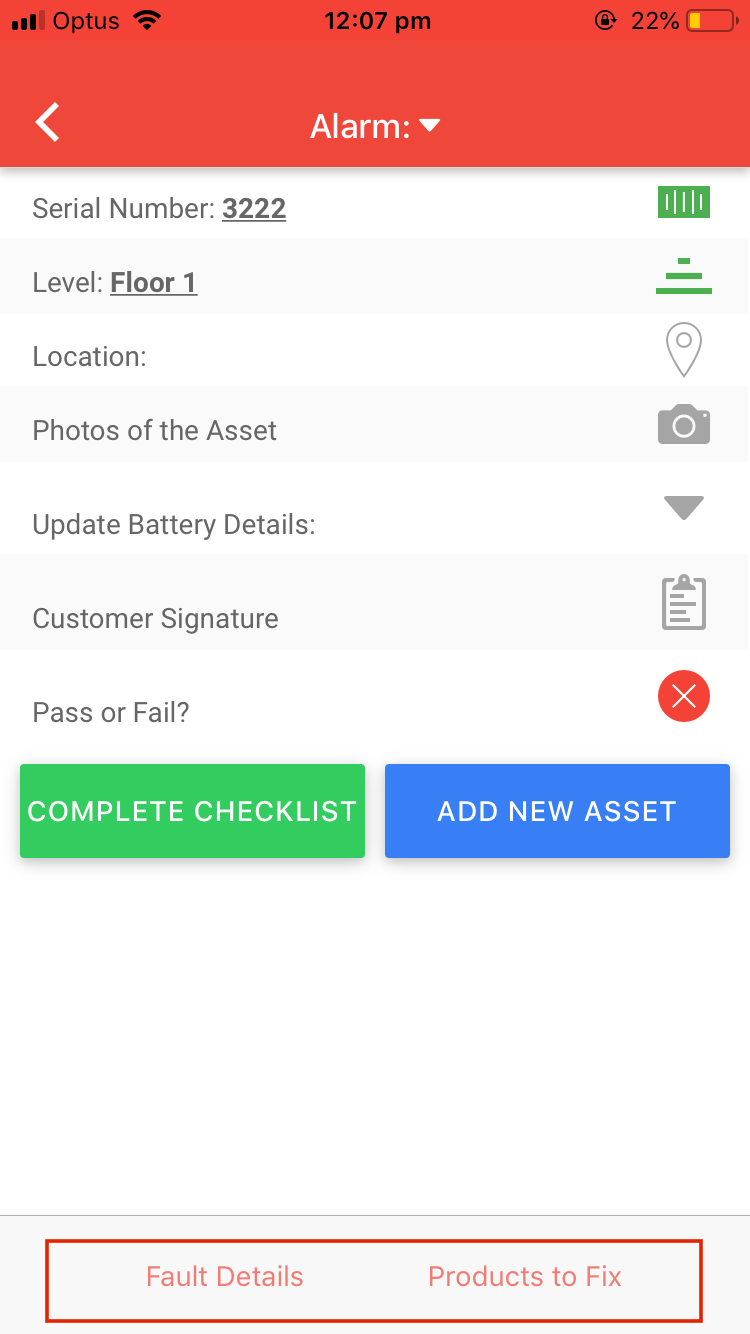 ADDING A NEW ASSET
In the case where there were assets not included in the job and site assets, you may add a new asset. Simply tap the "Add New Asset" option as below. 
You may scan the asset or add it manually.  If entered in manually, just enter the serial number of the asset then tap "Ok". The system will check for duplicates. If no duplicate, it will be added immediately in the list of assets for that checklist.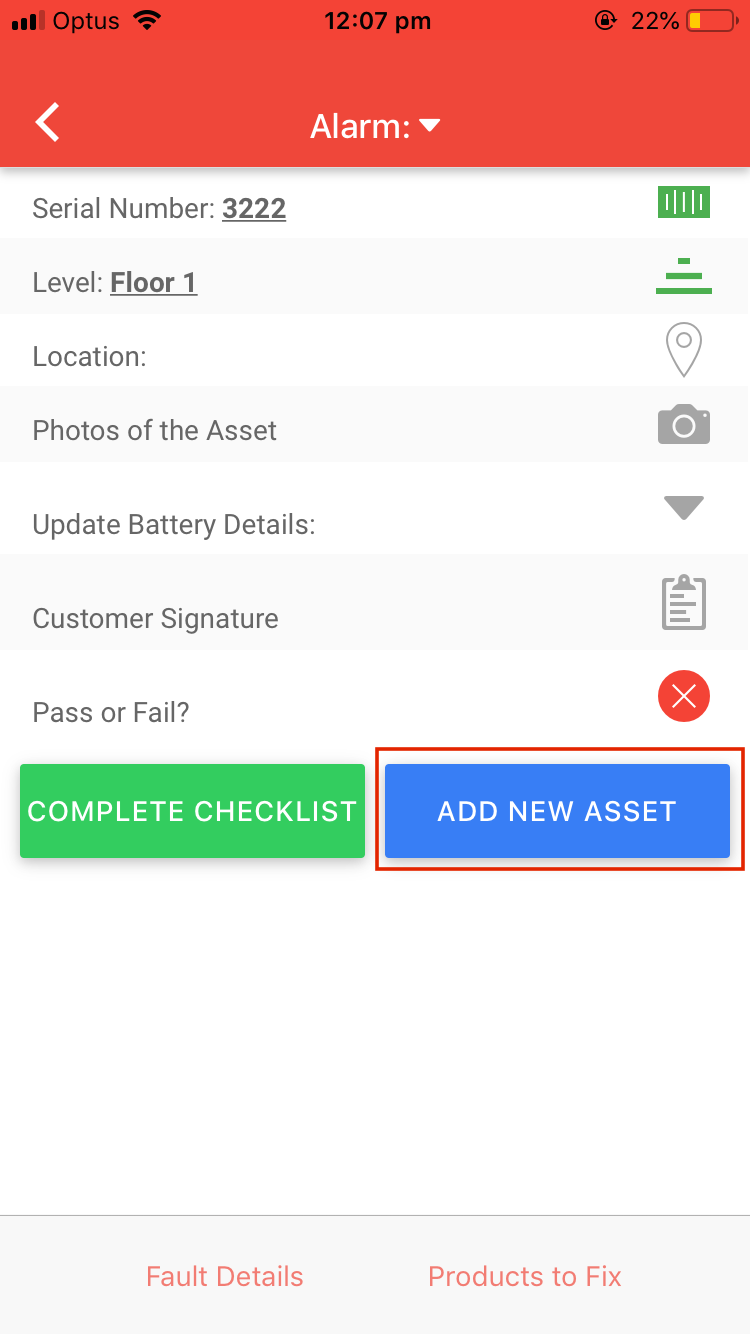 Once you are done completing the checklist tap the "Complete Checklist". There will be a "Successfully Saved Checklist" message: