ASSIGNED JOBS
ALL OPEN JOBS
This will display all the jobs assigned to your team. Navigate to "All Open Jobs " in the side menu: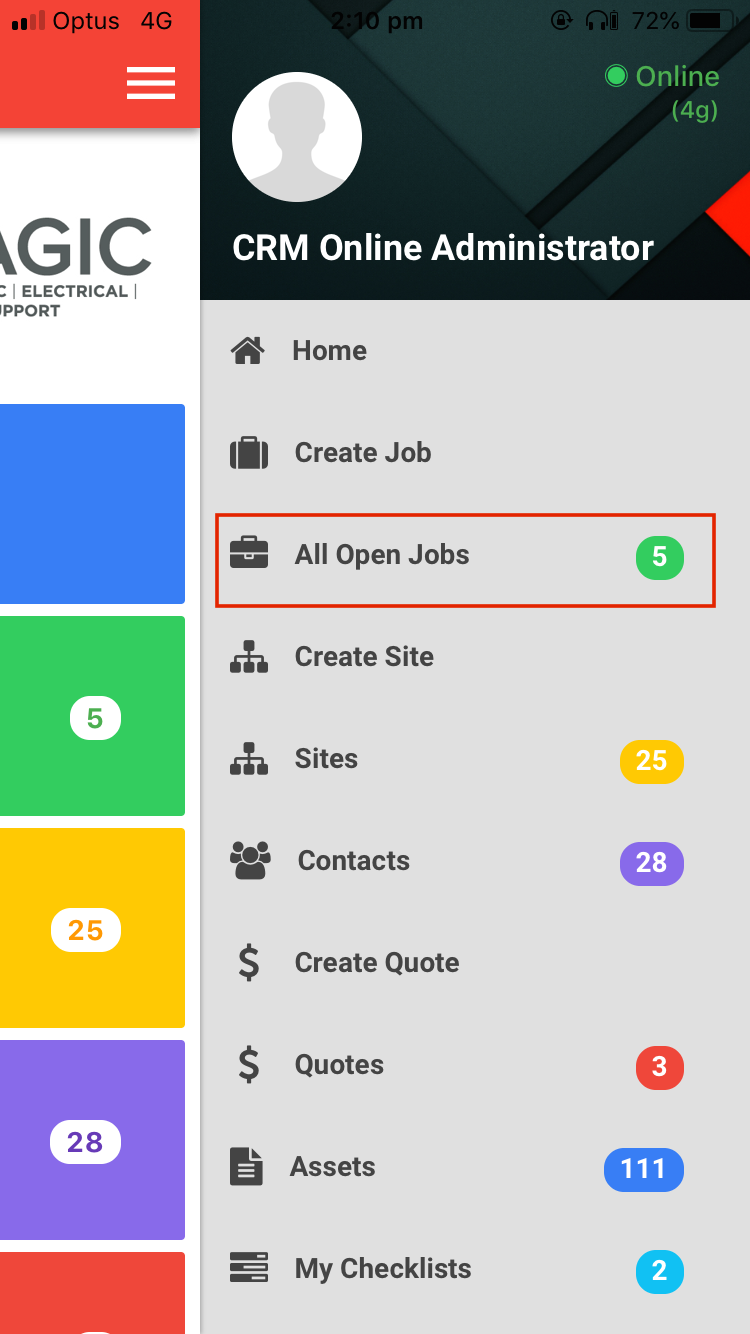 You can also access this in the home page. Tap "All Open Jobs":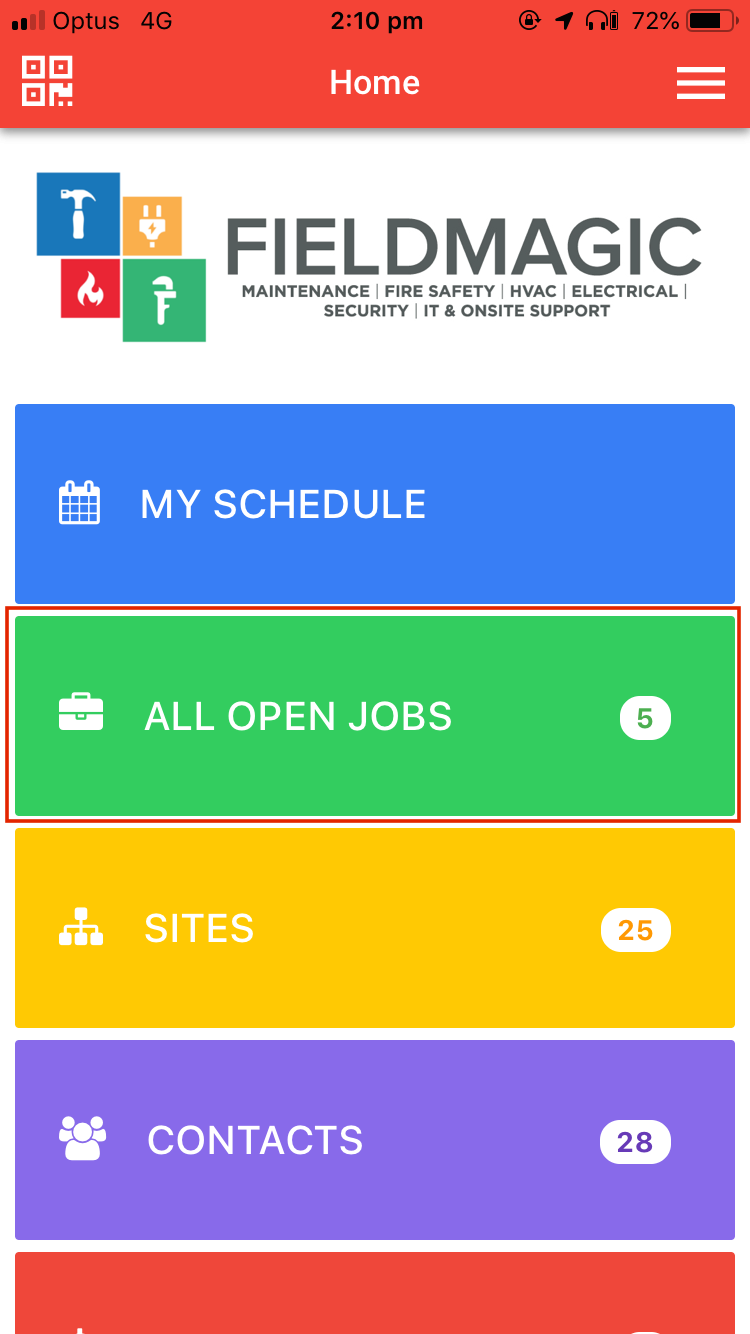 MY OPEN JOBS
This displays all the jobs specifically assigned to you. You may access this the same way in the "All Open Jobs". When you "Switch to My Open Jobs" the link in the side menu and home screen also changes. The "All Open Jobs" become "My Open Jobs".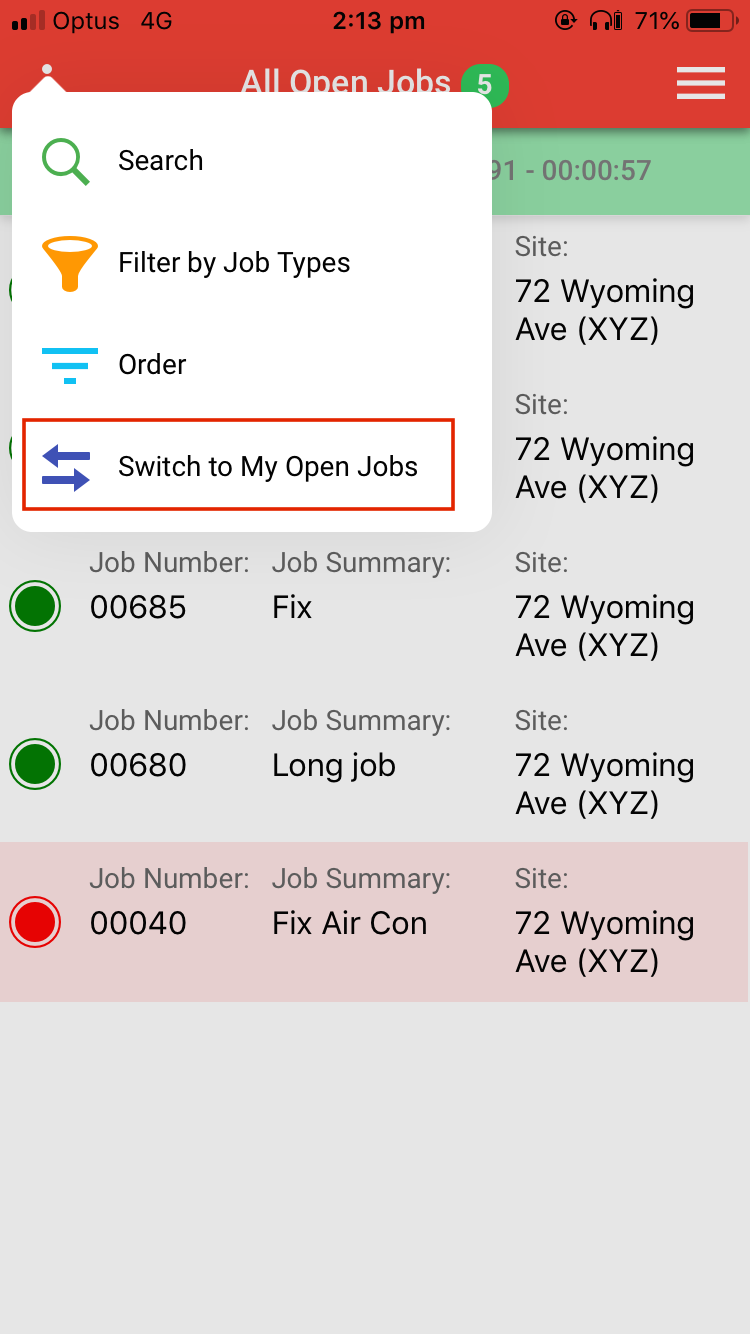 JOBS LIST VIEW
You will be directed to the jobs list view. At the upper centre of the screen, you will see the current count of your open jobs.  You will notice there's a coloured circle beside each job.The colour indicates the level of priority for the job. Fieldmagic uses the following colour coding:
Green - Normal
Orange - Low
Yellow - High
Red - Urgent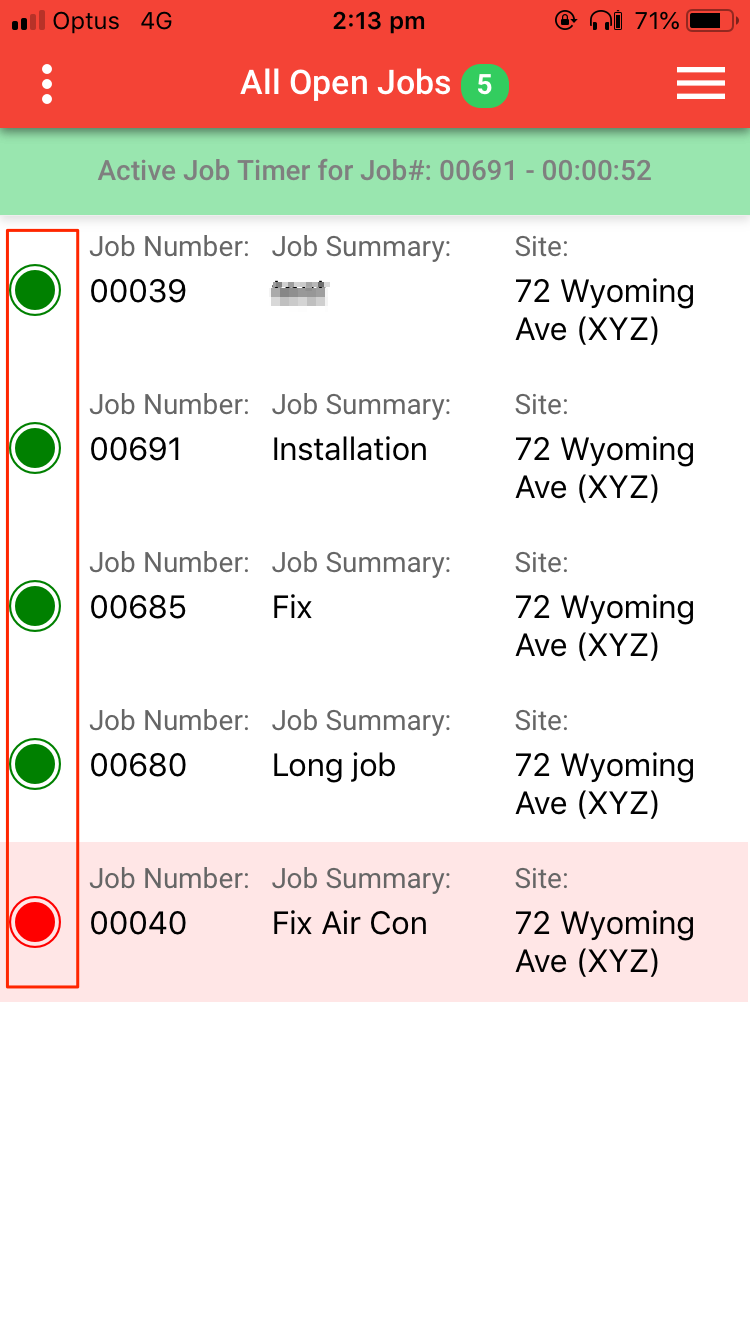 At the upper left corner, you will notice the 3 dots. This is the jobs filtering menu. Simply tap it to search your jobs: 
Search- Use any keyword to search for job
Filter by Job Types- Display the list of jobs based on the following job type: Simple, Project, Recurring
Order- Arrange the job list in ascending or descending order based on the following fields: Priority, Job Number, Site Name, Job Summary
Switch to All Open Jobs- View to all the open jobs assigned to your team
You may also tap the 3 horizontal lines at the upper right corner of the screen to access the side menu.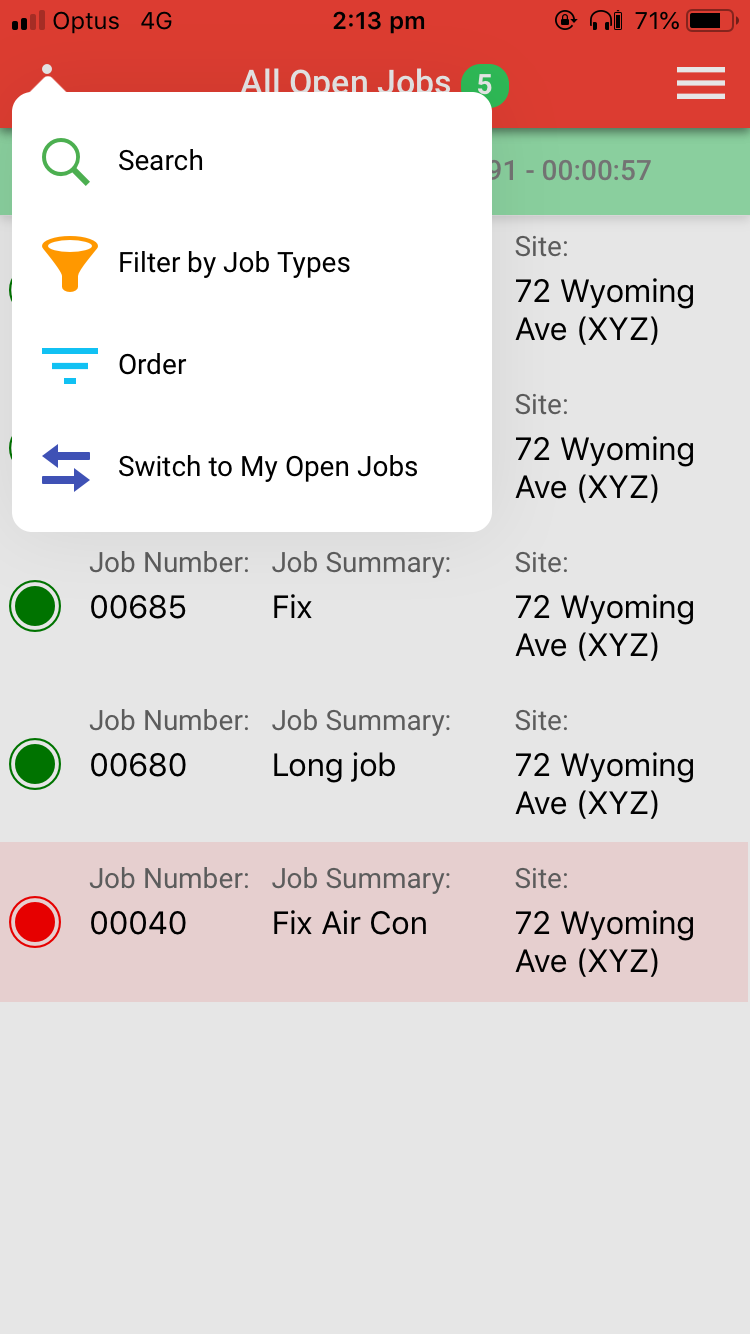 JOB RECORD VIEW
Tap the Job to view the details. The job record view is not always the same, it depends on the details of the job. Below is an example of a typical record view.
If the job has a checklist there will be a "Manage Checklists" button below the "Start Travel Timer"
If the site for the job has notes, it will be displayed at the upper part. Highlighted in yellow and in bold size with a red warning symbol for technicians
If that site has a primary contact the contact record will be visible. These includes the Contact Name, Phone Home, Phone Mobile, Phone other, Phone Work, and Tenant. You may click the pencil icon to edit the contact detail and the telephone icon to call the contact.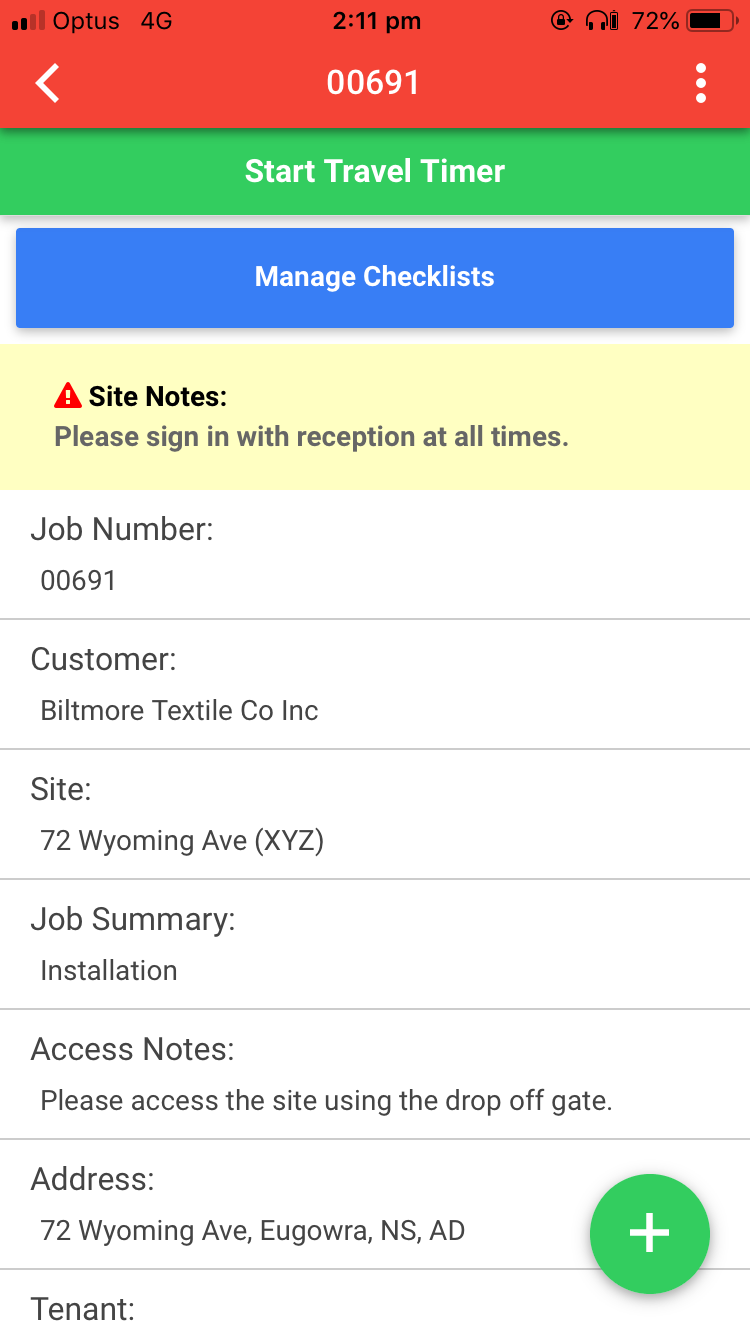 To update the job record, tap the 3 dots at the upper right corner and select the desired action
Create Job - Used to a new create job
Edit Job - Tap this to edit the status and details of the job
Job History - This displays the 10 last related jobs within the site.
Create Quote - Used to create quote for the job
Add New Checklist - Used to link exiting checklist to job
Time Log - Used to view and add job and travel time entries
Materials Used - Used to view and add job materials
Purchase Orders - Used to view and add job purchase orders
Add Photo - Used for capturing or uploading images
Files - contains all the related files for the job
Email - Used to send an email to a Site Contact about the job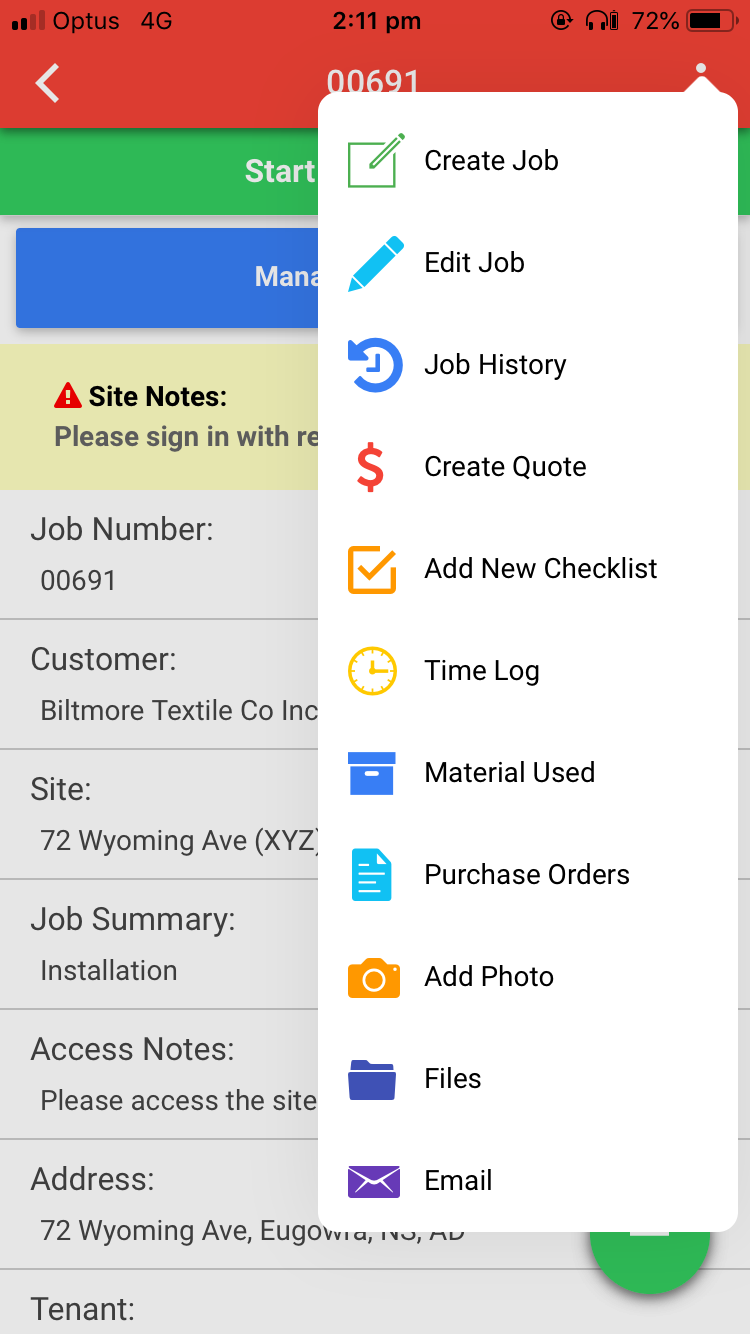 Job Main Function Button
Tap the "+" icon at the bottom of the screen to do the following action:
Phone Call - Displays the list of all site contacts and allows you to call them via Face Time
Navigate - Google map, use to view directions
Materials - Add materials for the job
Log Time- Add Job and Travel time manually