What is a Summation Report with Details?
A summation report with details is a report that has two aspects to it:
The Summation - The graph and visual aspects
The Detail - The Rows and Columns of Information below the graph
1. Select 'Create Report' from the Reports Module drop-down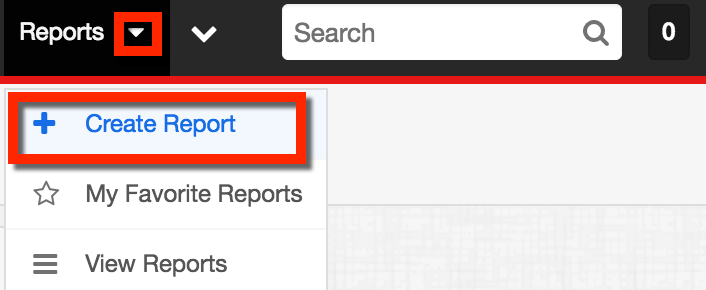 2. Select the 'Summation with Details Report' Option

3. Select the module you would like to base your report on
In this example, we will create a report based off the 'Jobs' Module. 
Once done, click next.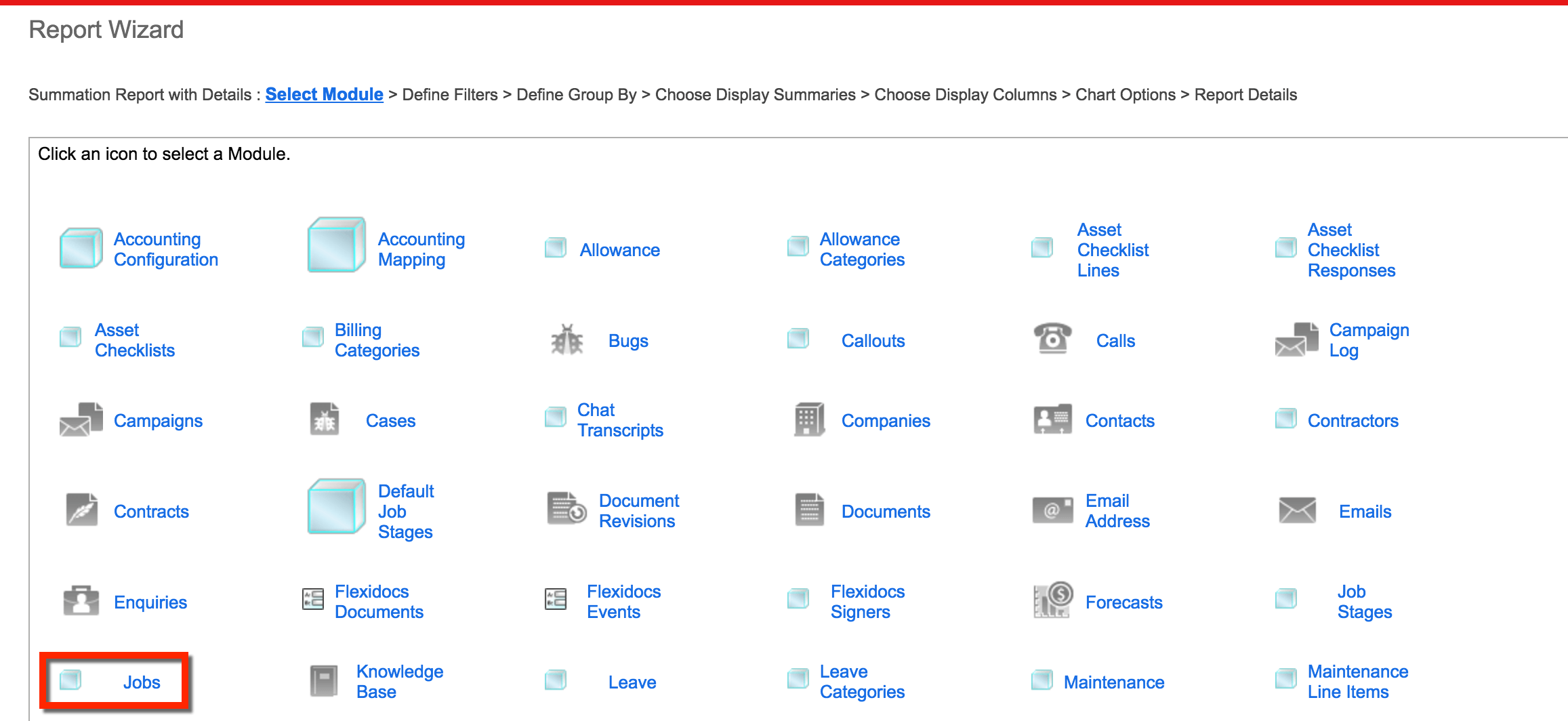 4. Define what information you would like to report on
Step 1: Select the folder you would like to search for a value to filter on. By default, this is the core jobs module folder, which will have your required values. This is always the folder at the top. Folders that sit below are related folders. 
Step 2: In the 'Available Fields' menu, search for the value you would like to filter on. In this case, we will filter Jobs by 'Date Created' and select this value. 
Once done, click next.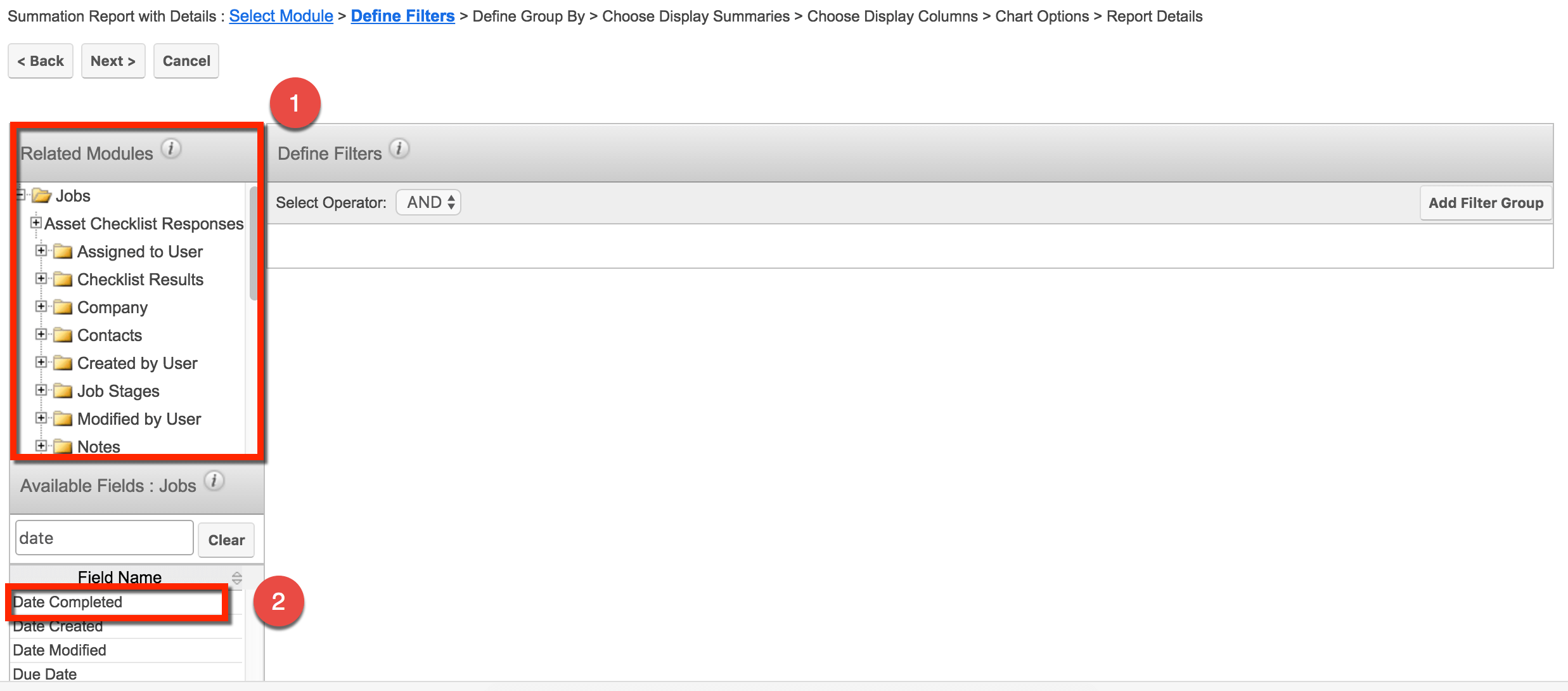 5. Set Filter Parameters
This is where you can define in your filter, what value your 'Date Created' field should be filtered by. In this case, we will set the value to 'This Year' as below, and set the report to be a 'Run Time' by selecting the check box as well. Run time means that once you generate the report, you can change the filter value to filter on different date ranges without having to edit your report again. 
Once done, click next. 


6. Group your report values
Grouping allows you to visualise your data within your report. In this example, we will group by 'Month: Date Created' and 'Status' of the Job. To place these values in the grouping window we need to search the 'Available Fields' window as before once more to find our values and then select them. 
Once done, click next. 


7. Choose display summaries
Some of your display summaries will be auto-selected for you based on the grouping that you have set. However, it is always handy to add a 'Count' summary option will will provide you with a count of the values as your hover over your graph. 
Once done, click next. 


8. Choose your display columns
Your display columns are where all your columns and rows of grouped information will sit. This is known as the 'detail' part of your 'Summation Report with Details.' The graph above your report is your 'Summation.'
Related Folders
When selecting your display columns, most of your column values will be in your core Jobs folder which is by default selected for you to search the 'Available Fields.' However, if you need to find information that does not reside in the Jobs folder (top left window), you can look below you top folder to see the related folders. These will hold more information such as:
Assigned To User Folder
Company Folder
+ More related folders
Once done, click next. 

9. Select your chart type
The most commonly used chart types are 'Vertical Bar' and 'Horizontal Bar.' The Horizontal Bar is useful if you have a lot of data to display, as this report tends to space out values more clearly for larger data sets. 
You can also give your report a description. 
Once done, click next. 


10. Give your report a name
Give your report a relevant name. 

11. Click Save and Run
Clicking 'Save and Run' will then display your report. you may also select preview if you need to preview the report first, and then make further quick edits before fully saving the report. 

12. Details of Report
Your report's detail will sit below your graph: