Time tracking is essential in improving service delivery. This helps organisation in analysing resources, performance and profitability.
Fieldmagic allows admin to easily monitor technician's time via a configurable period Timesheet.
Generating Timesheet
Timesheets provide a detailed report of all logged time both in mobile and web app per technician. This includes the following:
Travel Time
Work Time
Leave Types
To generate a timesheet, navigate to Profile Menu then select Timesheets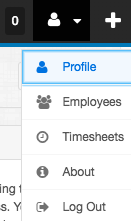 You will be directed to timesheet wizard, this can be filtered by the following categories:
Users
Department
Date Range(Start Date and End Date)
Simply fill in the filtering fields with your desired category then click the search icon

At the leftmost column, check the names of the technicians you want to include in the report. You may check the upper most checkbox to easily include everyone.

Then click the Generate Timesheet. You may also download and send the report by clicking the buttons on the topmost part of the generated report