Share on your Social Network
Aug 16, 2017
by Trevor Carlsson

Fieldmagic has been recognised as an ABA100 Winner for the categories of Service Innovation and CRM Innovation in The Australia Business Awards 2017. Now in its twelfth year, the ABA awards aim to identify Australia's business, innovation, and technology leaders via a set of established award categories.
CRM Online CEO Glenn Richmond commented on the awards and where Fieldmagic sits in the market, and the unique value presented to industry.

"We'd like to express our thanks to The Australian Business Awards for this recognition, and for the work the awards committee and panel do in running the ABA 100 each year. Fieldmagic is unique in that it combines a highly optimised workflow for field services with a simple yet powerful mobile technician app, all with the flexibility of a leading CRM platform. As it stands today, customers have had to choose between the flexibility of a CRM for field service while having to spend big dollars on configuration, or potentially limiting their flexibility by choosing an industry specific solution. Fieldmagic is the most complete end to end platform that combines both flexibility and industry specific workflows. We're thrilled to be playing a part in improving operations, and working to see our customers succeed. "
Glenn Richmond, CEO
About Fieldmagic
Fieldmagic is the first Australian developed end-to-end solution for Field Services that is built on-top of a leading CRM system, providing unrivalled flexibility and a strong focus on operational efficiency and customer service. Fieldmagic aims to eliminate paper-based processes and reduce overheads. The platform includes a quoting engine designed specifically for Field Services, a job scheduling calendar, a mobile technician app with GPS tracking, mobile time and materials tracking, and mobile electronic signing. The platform also supports integration with major Australian accounting systems, and more importantly, has configurable compliance and safety checklists built specifically for field services from the ground up. 
Here is a link to the award.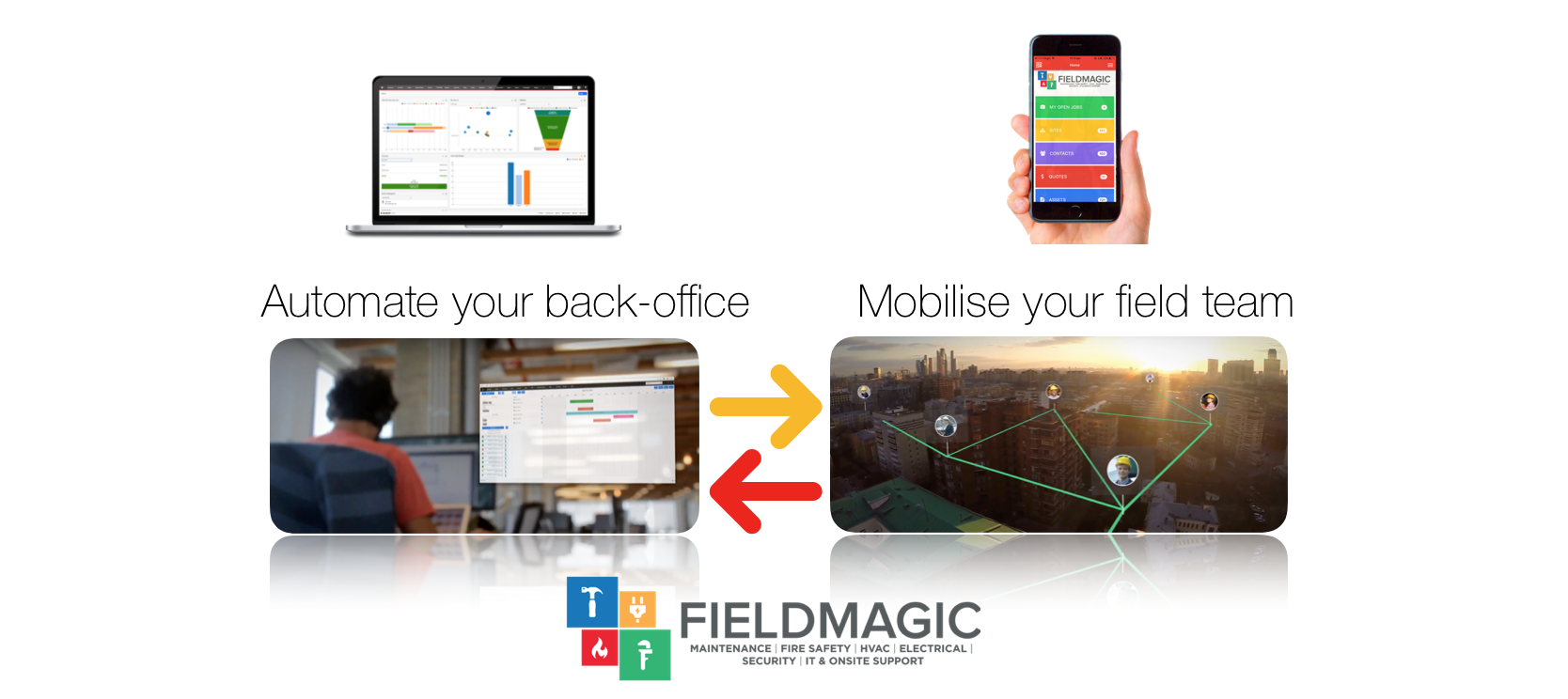 Relevant Industries
Although Fieldmagic was originally developed specifically with the Fire Services Industry in mind, the core platform has also aligned well to support a range of field services industries. In fact, Fieldmagic has found it's place in a wide range of industries, including:
IT & Mobile Support 
Mining & Oil and Gas (maintenance of assets) 
Electrical Contractors 
Maintenance 
HVAC / Air Conditioning
The Field Service Management Market is forecast to be worth 3.61 Billion USD by 2021, and Fieldmagic is the most complete solution for field service asset management on the market today. 


Like the article? Share it with your colleagues!